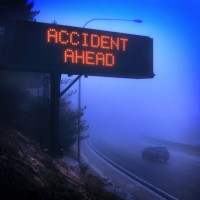 Today's Pop Quiz: This DJ was in a serious car accident over the weekend. Is it Calvin Harris, David Guetta, Avici, or Skrillex?
Calvin Harris was involved in a serious car accident Friday night that sent him to the hospital.
According to TMZ, Calvin was riding in an SUV when a 16-year-old driving a VW bug crossed the center line and crashed into his vehicle, causing one of her passengers to be ejected from the car.
Calvin was taken to a Los Angeles hospital with a laceration to the face but reportedly left "against medical advice" when he couldn't get a private room (his rep says he was cleared to leave).  Click HERE