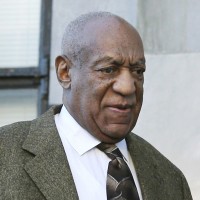 Pop Quiz: Will Bill Cosby Have to Stand Trial for Sexual Assault?
All the accusations against BILL COSBY are FINALLY starting to actually go somewhere.  Yesterday, a Pennsylvania judge ruled that Cosby WILL have to go through a criminal trial for the alleged sexual assault of Andrea Constand.
She worked at Temple University back in 2004, and she claimed he invited her to his house . . . gave her some pills to "take the edge off" . . . and sexually assaulted her.  Of course, she's one of more than 50 women to make claims against him.
Constand filed a civil suit against Cosby in 2005, which was settled out of court.  But last year, a newly-elected D.A. decided to file criminal charges.
Cosby is now free on $1 million bail.  No trial date has been set yet.  If he's convicted, he faces up to 30 years in prison.
Click HERE