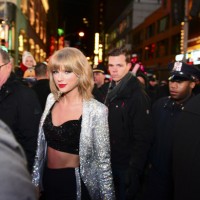 Pop Quiz: Are Taylor Swift And Tom Hiddleston Pulling A Prank On Us?
There's a conspiracy theory floating around the Web claiming that TAYLOR SWIFT and TOM HIDDLESTON are just pulling a PRANK on us. 
As in, they're not really together . . . it's all an elaborate hoax that will culminate in a "Lemonade" style video that'll blast the media for its obsession with her love life.
And I have to say that if this is true, I lay my golden fiddle on the ground at Taylor's feet . . . because she had us ALL fooled.  Here's the supposed evidence:
They're jet-setting all over the globe . . . pretty much making sure they're being seen.  They met each other's parents almost immediately . . . once again right out in the open for all to see. Click HERE