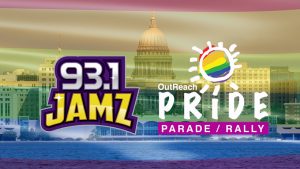 Sunday August 19th at 1:00, 93.1 Jamz invites you
to come together. To celebrate love, acceptance, tolerance, and pride at the 2018 outreach pride parade.
Join us on state street, as Madison marches in support of the our friends, family and
neighbors in the LGBTQ community.
Pride 2018 by Madison Outreach LGBTQ Community
Center, and the station that supports madtown ninety three one jamz.