WOAH, have you heard Eminem's new album?
SO MUCH FIRE
Dissing everyone including MGK…..
Eminem- Not Alike
"Now you wanna come and *** with me, huh?
This little ****, he must be feelin' himself
He wants to keep up his tough demeanor
So he does a feature, decides to team up with Nina
But next time you don't gotta use Tech N9ne
If you wanna come at me with a sub, Machine Gun
And I'm talkin' to you, but you already know who the **** you are, Kelly
I don't use sublims and sure as **** don't sneak-diss
But keep commenting on my daughter Hailie"
Machine Gun Kelly – Rap Devil
"Ayy, somebody grab him some clippers (Zzz)
His ***** beard is weird
Tough talk from a rapper paying millions for security a year
"I think my dad's gone crazy," yeah, Hailie, you right
Dad's always mad cooped up in the studio, yelling at the mic
You're sober and bored, huh (I know)
About to be 46 years old, dog"
WHO WINS!?!?!?!?!?!?!?!?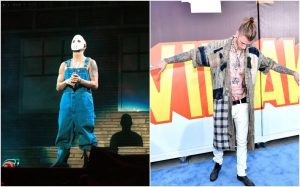 See The Full Story https://www.hotnewhiphop.com/eminem-vs-machine-gun-kelly-a-complete-history-news.58856.html#slide999852