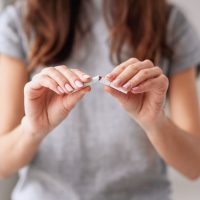 #ClickWorthy

It's National Kick Butts Day..No we don't mean to hit someone we mean quit smoking! Here Are the Top Four Reasons People Quit Smoking . . . and Their Health Isn't #1.
1. Money. A pack a day can cost anywhere from $150 to $300 a month. 43% said it was one of the main reasons they quit.
3. Pressure from family or friends, 23%.
4. Becoming a parent or grandparent, 20%.
https://nationaltoday.com/national-kick-butts-day/