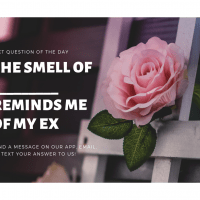 Ohhhhh oh, that smell.  Can you smell that smell?  We want to know what your ex smells like, figuratively or actually!
TEXT QUESTION OF THE DAY:
The smell of BLANK reminds me of my ex
weed…..because he was a stoner. lolololol
TQOTD.. OH MAN!! Teen years in the 90s,…… Cool Water Cologne lol I would snuggle right into that B.U.M Equipment sweatshirt and inhale the sweet smell of cigarettes and Cool Water cologne. Those were the days…
Body odor. I'm not sure he knew what deodorant was. Yuck.
The smell of garbage reminds me of my ex. Because the bum walked away from the his whole life and is living homeless in Florida
The smell of burnt rubber reminds me of my ex because she was pretty loosey goosey with the free love
The smell of Polo sport cologne reminds me of my ex.
The smell of POT reminds me of my ex. LOL!
The smell of wood smoke reminds me of my ex
[radio edit] bean burritos and salty [sweaty] balls. In high school I used to pick my ex bf up from work late at night and I would partake in lollipops as Katy Perry would say 20 years later. Bean burritos. Dang. Lol
Of Trash reminds me of my ex. Because … he is trash
Adidas cologne reminds me of my first ex
Cats, cause my ex was a cheetah no but fr she was
The smell of old spice and disappointment reminds me of my exes
The smell (and feel) of a leather jacket reminds me of my ex because that's all he ever wears. And the smell of old spice reminds me of another ex, but I still love that smell #throwback Friday ##good smells #steeeeeeeeeeve the intern
Smell of X…. campfires, He hunted and fished a lot.The best & happier times were camping.Dam him to hell for remaking my campfires.
The smell that reminds me of my ex is jet exhaust at the airport. (We met working at the airlines)
The smell that reminds me of my ex. Heaven hill cheap beer cheating and cheap cigarettes
The smell of cow poop reminds me of my ex because he's a Dairy Farmer
The smell of Jager, licorice, captain Morgan, and 5 gum. Allllllll we did was "kiss"
The smell of Cigaret Smoke reminds me of my ex. Because I'm allergic to all smoke and he quit until things got stressful.
Abercrombie fierce cologne reminds me of my hs ex. Makes me want to barf if I smell it
rum and coke. ugh. gives me the heebie jeebies just thinking about it
#TQOTD Eternity for men. One of the best smells ever! It's a smell I'm drawn to.
Text question of the day: the smell of cowardness reminds me of my ex!!
Question of the day: I'm sure the popular response is the same as mine.. the smell of garbage reminds me of my ex.
My ex: The one (perfume) by dolce and gabanna. It's unfortunate because it's my favorite smell. My wife uses a more natural scent. I like the perfume better lol
Tqotd: Vaseline hand lotion. He put that on every froggin' day!
The smell of Donkey butt reminds me of my Ex
Busch Beer and Scoll chewing tobacco… because he's an alcoholic with poor taste in beer!
The smell of reminds me of my ex bc he is a piece of
The smell of body odor reminds me of my ex cuz he didnt like to shower. Love you guys
The smell of Country Crock reminds me of my Ex!!!
The smell of Perferred stock Cologne because that is what this guy wore that I had lost my virginity to. It brings me back to a place I'd rather leave in the past. I wasn't gonna explain this but any sort of difficult life decision he just up and leaves the state! Absolute coward!!
Pot , a big reason why he's my ex
The smell of chewing tobacco…he used to leave cups of spit everywhere. He was gross.
Her perfume. I'm in my 50's and she was a girl friend in high school. It will still stop me in my tracks and I'll look around hoping it's her
The smell of alcohol
The smell of my daughter's feet reminds me of my ex. Bless her heart.
The smell of sweet sweet regret
The smell of burnt cookies reminds me of my ex because when I was pregnant I burnt cookies and was so upset that he ate two pans of them to make me feel better
The smell of cheap reminds me of my ex
My ex reminds me of a chicken farm cause she was scared to adventure off to get new things
The smell that reminds me most of my ex is the sweet stale smell after you smoke marijuana. He smoked 24/7. Everytime is smell that smell it bothers me. I think I have PTSD.
The smell of strawberries in champagne from Victoria's secret. The weekend we had together she was wearing this and then when she left I could smell it in my bed for over a week I loved it
Anytime i smell wintergreen anything, it smells like his chew tabacco
TQOTD: The smell of failure.
The smell of burning leaves reminds me of my ex. He spend 10 years in prison and he said that smell made him cry cause he missed home.
Thank God no smell reminds me of him!!! He stunk and it was his own special stench!!
The of the Best of Connie and Fish reminds me of my ex, cause whenever we argued she would replay herself over and over
The smell of a bulls poo reminds me of all my ex's.
Smell of bullshit. Because he never told the truth and always exaggerated stories
the smell of stinky feet reminds me of my ex. He had these huge feet (size 18!) and I tried everything to get rid of that stench. Just nasty.
The smell of tar/asphalt reminds me of my ex because I deposed of his body in the tar pits. Just kidding. He worked for a paving company.
The smell of my toy cleaner…
TQOTD: The smell of LATEX reminds me of my ex. Self explanatory.
The smell of VW cars reminds me of my ex. FYI I think they smell like crayola crayons!!
TQOTD. The smell of noxious farts reminds me of my ex. I used to put the couch cushions on the front porch to air them out. One time he dropped a SBD in the store and when an unsuspecting victim walked through the cloud of fecal matter, they started gagging and coughing.
The smell of other women's perfume and cheap booze reminds me of my ex because thats what he always came home smelling like.
Burning plastic… Because when we were together he stole a bunch of computers while working for college security which he told me he only had two and bought them, turned out it was 20, when the police showed up at the house he set them on fire lmao. So yeah. Burning plastic
Poop breath….my ex boyfriend had poop breath, I don't know why and I don't know how but it seemed like his breath often had a faint smell of poop, unfo rtunately my son was spawned by him so I still have to smell it from time to time
Petrichor, smell of first rain because we fell in love in the monsoon season. #noregretsNow
Swisher Sweets
Wendy's, didnt know she worked there until a week after dating, ruined Wendy's for me 🙁
The smell of abandonment because he left me as soon as he found out I was pregnant. But it was the best thing he could have done for me cause I met my husband who took on his responsibility and we have been married for 37 years
The smell of Georgio Armani and cigars. It was my favorite cologne and he started wearing it more when we broke up, he would even spray it on our sons blanket when he'd drop him off.