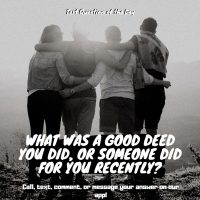 We are seriously hoping that we have some nice listeners because if we don't then this #TQOTD is gonna be a big loser…  So, let's see what you said!
TEXT QUESTION OF THE DAY:
What was a good deed you did, or someone did for you recently?
It's small but I love either buying coffee for someone behind me or someone buying coffee for me.
At the end of the summer, my boss bought me a whole bunch of school supplies and a stress writing and drawing prompt book, as a sending off / goodbye present when I left to start law school. It was a huge weight lifted off my back to not have to figure out how to afford to buy them myself ????
Last year my 38 yr old husband had a stroke suddenly. He has been wheelchair-bound since, but he is still here. Unfortunately, we had just bought a house and moved days before this all happened. His family has helped with our littles and renovations t…See More
When I lost my job a few months ago, mysterious groceries showed up on my porch! ????????????
My good deed was hooking Fish up with new raquetball friends ???????? You're welcome haha
On Friday I stopped because two cars had broken their tow strap while one was Towing the other I stopped and gave the woman by tow strap
Good deed was done to me.. my boyfriend ran me a hot bath after a very long day at work… then proceeded to give me a back and foot rub while I relaxed in the tub. He treats me like a queen..
my good deed is yesterday I gave a brand new crockpot almost new vacuum cleaner and many other items to a family that had a fire
Recently I was in line at McDonald's and saw an older gentleman behind me who looked like he might be having a bad day. So I paid for his meal when I got to the window. His face gave me all the warm fuzzies!!
TQOTD…Does talking to my grandma on the phone for over an hour on a Saturday count?? Repetitive stories and all the same stuff I have heard a million times, but she loves when I call her! Sorry…it's all I've got! No one does good deeds for me I have RBF. ????
I was given a 50 gift card/gas card from work and i gave it to an elderly old man who is traveling back and forth to Detroit because his wife is in a specialty hospital out there. I gave it to a friend of his so he wouldn't know who it was.
Tqod: I was parked next to an elderly lady at Meijer. I was coming out as she was finishing uploading her groceries so I offered to take care of her cart. After I put her cart away I got in my car and the wind whipped my door open really hard right into her car! I wanted to cry! If I wouldn't have taken care of her cart she wouldn't have a ding in her Buick! Plus, it didn't do anything to my car????????????#fail
My good deed did I do is every time I go to the grocery store or go to a fast food restaurant I always pay for the person behind me I am a strong believer in paying it forward
I'm a truck driver rapids and I always stop at accidents I come across on the highways and help however I can if emergency crews are not on scene. Yes, I have emergency training.
I saw a family at McDonald's this weekend getting food to eat u could tell they didn't have much but they were telling their kids they could only get one thing I said no I'd pay for all of their full meals just don't like seeing kids hungry
Every Tuesday I clean my daughter in laws kitchen including dishes and all. When I watch my granddaughter, Does that count
TQOTD: I woke up to find a note where my sister asked me to wake her up before I left for work. She hasn't figured out her alarm clock, and when she asked out brothers, they said no. I guess my good deed was to wake her up. Plus I brought a shake to a friend who just had wisdom teeth removed~
I can't even think of a good thing someone has done for me???? how sad. And I also can't think of anything I did that was good, I feel like a horrible person????
I had some buy my breakfast in the drive through so I paid for the person behind me.
My coworkers last night knew I was having a terrible day so that surprised me with a snack and kept doing other small things to make me laugh and cheer me up
I gave up a day off so my coworker could go away for the weekend
On valentine's day (ik this was a little bit ago but) on my way to school I saw that there was an ambulance outside of someone's house and it was like 7 in the morning so in my opinion that's a really awful way to not only start your day in general but to start your valentines day like that makes me really sad so I bought them flowers and wrote a little note and left it on their porch
Good deed. A lady took her and her kids to a buffet. She paid for her kids but didn't have enough for herself. So I paid for her. #feltgreat
#tqotd. My good deed was opening up our home for the newborn sister of 2 of my adopted kids. Good deed done for me: the world around me hooking us up with all the baby stuff. #ittakesavillage
A man's EBT card didn't have enough for his bananas and chicken at the grocery store. It came to just more than $4 so I paid it for him. He didn't speak any English but thanked me over and over
last year with my tax return money I was looking for a new car I had about $2,000 and I was asking around if anybody knew of anyone selling a car and they if they would let me know, I asked my chiropractor's office and they all raised an additional $1,000, he also played on a golf league with someone who owns a car dealership and he went and found me a car at an auction and repaired it and sold it to me for $3,000 I'm fairly certain it was worth much more than that especially with all of the work that he put into it but they all just were doing a great deed for me
Something small, but, I took a picture of a dad and his little girl at the beach for them. My dad passed when I was little and don't have many pictures of us together. I know both the dad and little girl will appreciate it in the future.
So we will be building a wheelchair ramp for someone in need this Saturday. We do 3 to 5 a year. No cost to the person in need
Good deed? I just got back in my car after taking my daughter to the bus stop – a sweet dog ran up to me and my friend at the stop said it is the neighbor's dog and they beat. Him and she's reported it several times but nothing is done we yelled to her when we saw her come out that her dog was out then the pot thing took off on a very busy road I had chicken for lunch and my daughter grabbed it and we got him to come back The neighbor / owner waved and went back inside so we got him on a leash and called the sheriff dept because humane society and shelter aren't open he'll be picked up and no longer beat
I put together and handed out over 100 care packages to cancer patients going through treatment.
The good deed that has been done for me and my kids is that my best friend took us in to get us out of a stressful situation and her and her fiance will be helping us move to West Virginia on June 1st
My good deed is that my husband and I did foster care for eight years and we adopted three of the children bringing our household to five children and I wouldn't trade one second of it
I took my 2 kids to the donut shop and a nice gentlemen paid for ours
At my old job some guys, we're seen on camera throwing a brick through my car window for no reason. I had the lowest car insurance so it wasn't covered and was gonna cost $160 to replace and I was bummed out so about 5 of my coworkers pitched in $20 each to help me pay for it. Such a good thing they did for me, I was very grateful????
My neighbor tilled my garden for me last week
This past Winter I saw 2 salt trucks at the gas station during a bad storm and decided to go buy them a 5 pack of lottery tickets each just for fun and to say thank you for taking care of us. Please keep me anonymous.
we had an amazing deed done for Last week Wednesday morning, my kids and I were on the way to school when my truck started on fire. We were on the freeway and it was pouring rain. I had to get myself in my three children (8, twin 6yr olds and a 9-month-old) out of the car as fast as possible. we were standing on the side of the freeway in the pouring rain for about 5 minutes when a Good Samaritan decided to stop and help us out. She let us sit in her car to stay dry while the firefighters came and took care of the car. She even drove me to meet my husband at the park and ride so we didn't have to wait for an Uber or a taxi.
I wouldn't say good deed just my nature of needing to help. After a comforting a man in my rig to keep him calm as possible. He did end up passing away. He had no emergency contacts in his file. But the man had told me his two kids names. I was able to find the son online and his phone number so someone in his family knew what has happened. It took me two hours to find the correct number but I gladly did it.