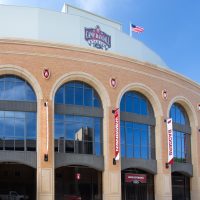 #ClickWorthy
MADISON, Wis. – After delivering the commencement speech to tens of thousands of people at Camp Randall Saturday, former Badger football player J.J. Watt visited a Madison hospital, signing footballs and spreading smiles.
Social media posts Saturday showed Watt visiting with families, holding a baby and signing footballs for patients.
Elizabeth Rand Lindstedt said Watt stopped by to visit her son, 10-year-old Jacob, on Saturday afternoon. The two talked about the video game "Fortnite," and the Houston Texans defensive end signed a football for Jacob, but not before a little fumble.
"Make her delete that later," Watt whispered jokingly to Jacob in the video posted to social media.
Jacob, of Omro, has been receiving treatment at American Family Children's Hospital for the last seven years, Lindstedt said. He has survived brain cancer twice and acute myeloid leukemia.
"He has had many ups and downs during his cancer journey and is currently battling an aggressive lung disease," Lindstedt said.
In a post to Facebook, Lindstedt thanked Watt "for the giggles" and said Jacob enjoyed the visit. After signing a football for Jacob, Watt asked Jacob to autograph a ball for him and include his favorite number.
https://www.channel3000.com/news/jj-watt-visits-children-s-hospital-in-madison/1077421813