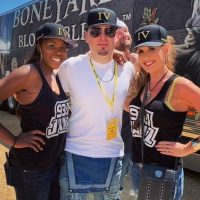 RIP ANNOUNCES NEW ALBUM, "DELIVERED"
Debuts new song, "Jolene", at World's Largest Brat Fest!
5.28.19 – This Memorial Day weekend, Madison, Wisconsin hosted The World's Largest Brat Fest. On Sunday, May 29, they featured award-winning recording artist, Rip, on their Grand Stage. Rip is the first ever billed hip-hop artist to play their Grand stage. He took the opportunity to announce that he started work on his 4th studio album, Delivered, which he plans on releasing in 2020. He also debuted a new song from the album, "Jolene", live for all his fans in attendance.
Rip is a 5-time Madison Hip-Hop Award-Winner, 2019 Best of Madison Winner, and a GRAMMY considered Recording Artist. His single "Drown" off his third studio album, Trinity, was considered for Best Contemporary Christian Performance & Song at the 2019 GRAMMY Awards.
Follow Rip (@Whoisrip)
https://www.instagram.com/WhoisRip/?fbclid=IwAR1grC-dq46MPtbXsgJbZ1TXI8wXCy7RC2YImhmu1HxM6HUWjDrPdftGtv0
WhoisRip // RiP Records & Productions :: Official Site 2021 :: Christian Rap, Hip-Hop – Rip – Christian Rap, Christian Hip-Hop Recording Artist in style of Lecrae, Kanye West, Nicky Gracious, Andy Mineo, NF, TobyMac
To hear his announcement and new song check out:
https://www.youtube.com/watch?v=Q2S9McjPe3g