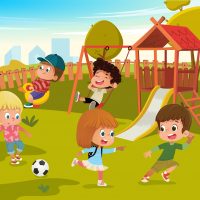 Today is a blast from the past!  As in, we want you to tell us about your childhood.  So tell us something that you wish you could relive from your childhood!
TEXT QUESTION OF THE DAY:
What's something that you miss from your childhood?
My parents used to have parties all the time. My sister and I would be"waitresses". And every time we brought someone A beer, we would hold out our hands and all for a tip. We were cute, they were drunk so we made a lot of money. Then we would take it to the gas station the next day and buy loads of candy. (I just don't understand why this doesn't work )
I am such a nerd, I miss being able to do the library summer reading program. I am 80s kid and I would grab a book climb a tree and read, sit under a tree and read, or go drown the bait and read while i fished. I also miss the neighbor water fights we would have, running in and out of yards throwing cups of water, water balloons, or water guns. All the neighbors who were home on their porches watching us and sometimes ambushing us with their water hose! Kids these days wouldn't be able to do that.
I miss that carefree freedom. Where parents would expect us to go outside and play all day and leave them alone. Where there were no helicopter moms and no one was afraid we were going to be snatched by a psycho. I miss parents being able to spank their kids without CPS showing up at their door!
Having the family get together with my grandparents and parents!
My parents. Both have passed away and I miss them dearly every single day.
All the family get togethers.
TQOTD– I miss camping every weekend With my family and riding our bikes all around the campground meeting new kids and our parents not being worried where we were
I miss the stress-free life. When the only worry in the world was how to pass this test…
I miss being able to eat whatever I wanted and not having to pay any bills
Sitting up late with my dad watching The Twilight Zone and mash! To this day my husband does not understand what I like those two old shows. But I think some of it is just remembering great childhood memories with my dad
I have family in a couple of states and we would all gather at my aunt and uncles cottage in Montague. Beach fires, bbqs, boating, horse riding. Makes me miss my extended family!
The awesome 80's cartoons! Dark wing duck, tailspin, chip n Dale rescue rangers, he-man, she-ra, gummie bears, original my little pony(the cute fat ones) strawberry shortcake, so many more! Also spending all day outside exploring, soaking up sun, and only coming inside when it was too dark to see. Love my rural childhood.
I grew up in California, so I miss the beaches and chasing waves!
No bills lol… Spending time with family and friends whenever we wanted
Family
My grandma and grandpa's house. Having ice cream with them and watching Wheel Of Fortune.
The ability to day dream and have imaginary play without worrying about real world consequences or relevance.
My grandfather and grandmothers basement. It always seemed like an adventure.
I miss getting cash as a kid for holidays. I need it more now than ever aunt Karen! #livingpaychecktopaycheck
Riding in our neighborhood big wheel gang.
Summer break. Can I leave my office for 2 whole months please?
Having a sister and brother,Roller skating, it was my escape from a bad childhood.
Spending Sunday's at Grandma's house where everyone would gather for dinner. Nothing isn't the same since she passed 16 years ago.
My MOM!
my mom
Lack of responsibilities
going to riverside and fishing with my dad while my mom grilled up some hot dogs.
Spending days with the neighbor kids just hanging out. Life was so simple.
My parents.
My family. Living far from all 6 of my siblings is really really hard
Looking for cool rocks on the railroad tracks then going and getting a slush puppy after my grandmother and I walked the track into town
My bike with the banana seat!
Waking up at my grandparents house and just laying in bed and listening to them talk about everything! I'd give anything to hear it again.
Taking naps after school and waking up to do homework at 11 o'clock at night.
My mom
Summer break and no responsibilities
Ummmmm no responsibilities!
Having friends
Summer vacation!!
Growing up on an Air Force Base in the U.P. kinda sheltered I would have to say I miss the innocence and freedom that we had. We were all friends and their wasn't such a thing as black white Mexican etc… We were all friends and who cared . No one knew any different, at least where I lived. Man it was a real eye opening experience at the age of 21 moving to St. Joseph/Benton Harbor area and seeing that the rest of the world wasn't all rose colored glasses. I would like to go back please sorry I got political
Eating whatever the heck I wanted with zero consequences..
Being footloose and fancy free! I don't remember what it's like to be bored. I always have something that needs to be done.
No worries.
No Bill's
Popples and Fraggle Rock!
Honest to god play and how active a child's imagination could be.
Playing on the farm and going to tractor shows
Summer vacation, little league, and not a worry in the world.
My laundry folding itself.
A flat stomach
Camping on the weekends!
No debt… lol…probably the public swimming pool and baseball in the backyard with my brothers ♡
Having summers off to play, dream, swim, read, and relax.
Not paying bills.
The neighborhood block party. We had a diverse couple of streets and there would be food, music and games from all over the world! The police would block off the roads and everyone would bring out chairs and tables along with dishes to pass. It went on well into the night. It was the highlight of the summer.
Not having to pay bills or work. Kids don't know how lucky they are, adulting sucks.
Bomb pops from the sketchy ice cream man
Playing with my cousins
I miss the innocence. Adulthood is hard! Work, life, kids, Bill's, everything is stressful!
I miss outdoor forts with my friends and building them bringing all the stuff from inside my house in to my forte
Ugghhh…I miss not having to adult! I miss the freedom of hopping on my bike and riding around and not coming home until the street lights cane on
When penny candy used to be a penny
TQOTD: Summer vacation! I really should have become a teacher.
When we had no bills
Competitive sports! Not only the bond you form with that team, but a team that forces you to work out hard at practice lol
QOTD….When I was little all I cared about is getting a little bit of money ,walking up to the store ,going behind the cashier to get some penny and nickel and dime candy! Hmmm guess I've always been a foodie
…..I miss not having to work for money
I miss running around the farm all day, mostly barefoot. My grandparents lived in the farmhouse and had their groceries delivered via a grocery truck(how awesome right?). My cousins and I would have so much fun. Jumping on and riding sheep, finding treasures in our family dump, and my most favorite, running through the cow pasture and jumping in fresh cow pies( poop) and feeling it warm and squishy between our toes. Not a care in the world.
TQOTD. I miss the simplicity of childhood. Playing kick the can, watching Saturday cartoons, easy homework. No cell phones or social media. I'm on social media too much, but in all honesty I hate cells and social media. Causes to much trouble for people.
Text question of the day the thing I miss from my childhood is freedom never having to worry about the time and never having to punch a time clock just going about my day without wondering what time it is and what I have to do next
I miss watching mtv music videos all summer long trying to memorize the lyrics before going back to school to impress your friends
The one thing I miss the most from my childhood is that everything was so much bigger. I remember playing football or baseball in my backyard growing up all the time thinking how huge it was back there. Now when I drive by I'm like I couldn't even have a game of football with my friends back there
I miss my dad, first of all. I miss not paying bills and I miss the amazing trips our parents planned when I was a kid. My dad loved roller coasters, so we went to MANY amusement parks
TQOTD: I miss school feild trips. No classroom, just a farm and pumpkin / apple picking. Also naps in kindergarten, (think we should get those as tired adults more than when we're young balls of energy ? )
Something I miss from my childhood is laying out by my inground pool with all the neighborhood kids over, with 80's music blasting in the background, sipping on our red koolaid. Then riding our bikes 6 blocks into town with my 2 allowance that I worked my butt off for, and buying a full bag if penny candy. Heading back home and taking that candy up to our tree house and making ourselves sick. Ahhh good times. Simply put; I miss the innocence and lack of responsibility other than my chores. Kim, Coopersville
I miss a lot of things from my childhood. But the thing I miss the most is just being a child, carefree and full of imagination and adventure. I'm still childish now, but since I'm an adult it's frowned upon
TQOTD: I miss weekend mornings with my dad. He worked sunup to sundown during the week (this was before I was in preschool/kindergarten so the majority of my awake time). We'd sit at the kitchen table, watch gilligans Island and eat sour cream and onion Munch'ems
When I was little we would visit my grandma in Denver and go to a Mexican restaurant called Casa Bonita. This place was awesome you walked in and it was like you were in Mexico. The had a 20′ indoor waterfall where every couple of hours the had cliff divers perform dives from the top of the water fall. The had an indoor cave maze for kids that had an exit that was a dragons mouth and hourly puppet shows. And the food was awesome. I haven't been back in 20+ years so I don't know if they are still there.
I miss going down the stairs in a box. There was a door at the bottom of the steps and sometimes my brother would close it and we would crash into the door. I don't know how is kids survived some of the things we did.
I miss the lack of sensitivity. Everyone's offended by everything and you have to tip toe around "sensitive" subjects. The world is wrapped in bubble wrap.
Text question of the day! Phat Doinks here, what I miss most from my childhood is my back not hurting. Good thing I have something to help for that if you know what I mean
TQOTD I miss my firm skin
Tqotd – I miss riding in the back (truckbed) of my dad's truck and cruising out to pentwater and spending the whole day at the beach with no worries.
What I miss out my childhood is not having a care in the world!! Just playing with toys, friends and running around the neighborhood!!! I tell my kids all the time to not grow up to fast!!!
Playing Warhammer with my highschool friends. Between kids and work I don't have the time or money to invest in it anymore.