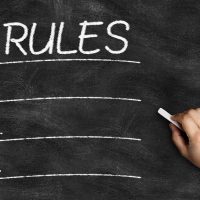 #Clickworthy
The Killers warned us of the pitfalls of jealousy when they so eloquently sang, "Jealousy, turning saints into the sea." Fun unrelated fact: It is physically impossible for a white person to hear Mr. Brightside without breaking out in song. 
One psychopath broke out of his straight jacket to text his girlfriend a list of demands to ensure, very throughly, that she not so much as look a Y chromosome during her time at a music festival in the UK.
Zoe Scholefield of Wakefield, West Yorkshire messaged her ex-boyfriend asking him what bands he would like her to take a video of from the festival.
His response has gone super viral, especially seeing as Zoe claims he was the one who ultimately cheated.
The caption of the tweet, which at the time of this writing has nearly 35,000 likes: "Funny how my ex sent me stuff like this then has the audacity to cheat on me."
The psycho demands:
1.) Don't dance like a slag in reflex
2.) Don't get too drunk
3.) No boys and if anyone comes upto you and talks to you you tell them you have a boyfriend
4.) Look after your drink at all time to make sure no one puts owt in it
5.) stick with (redacted) or (redacted) all time not (redacted) by looks of last night though mostly (redacted)
6.) No one but you 4 in your room besides (redacted) but he can't sleep
7.) You can't go in anyone else's room
8.) You let me know everything that happened and be ready to explain stories
9.) Always send me photos of front and back of what you are wearing so I can approve and say whether or not I think you should wear it
10.) Even when I'm asleep text me to tell me things so I can see in the morning
11.) If you find time call me or ft me but let me know in advance
12.) If you can want a video of room before you sleep to prove no one else is there and you are off to sleep

This level of jealousy would make the Gin Blossoms blush.

If it's of any consolation to Zoe, the saying is true: the jealous are troublesome to others, but a torment to themselves. I can't imagine how many times this lunatic ran scenarios of Zoe boning lead singers of bands over in his head. I wouldn't wish that torture on my worst enemy. Especially someone who seems about as secure as a Nigerian bank account.

https://brobible.com/culture/article/jealous-boyfriend-list-of-rules/