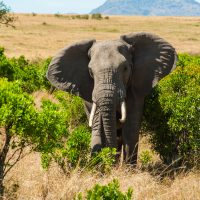 #ClickWorthy
The Milwaukee County Zoo is bringing a new elephant, named Belle, this fall to join elephants Ruth and Brittany in the Adventure Africa Exhibit.
The release said Belle is transferring from Riverbanks Zoo and Garden in South Carolina.
"We are excited at just the thought of more elephants in the new exhibit, and are anxious for Belle to join Ruth and Brittany," said Zoo Director Chuck Wikenhauser.
Wikenhauser said it is necessary for a zoo to hold a minimum of three female elephants to meet the animals' social, psychological and physical needs to adhere to the Association of Zoos and Aquariums' guidelines.
"The Milwaukee County Zoo was the right option and the right decision for Belle's needs, to thrive and live out her life in our new 1.6-acre outdoor habitat and indoor state-of-the-art Elephant Care Center," Wikenhauser said.
An experienced transporter who helped move Ruth and Brittany will help Belle with the move, along with Riverbanks' animal care team.
"We know how to take care of elephants that are getting along in age, and I think that's a real service we can provide to these animals, and a responsibility we don't take lightly," Wikenhauser said. "We understand this is a bittersweet departure for visitors and staff at Riverbanks Zoo, but can assure them that Belle will receive excellent care, and continue to lead a full, active and enriched life here."