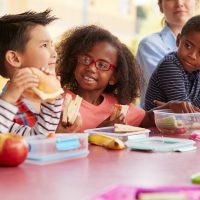 #Clickworthy
VERONA, Wis. – Do you remember how long you had to eat your sandwich, apple, and chips during grade school? Maybe you were part of the lucky group of students, allowed to head home for something hot to eat. Students nowadays don't have that luxury. What was once called the "lunch hour" has been replaced by 20 minutes to quickly eat, if students even get that long.
The American Academy of Pediatrics recommends children get at least 20 minutes for lunch every day. That means 20 minutes to actually sit down and eat, excluding time waiting in line for food or lining up for recess.
Local principals and teachers told News 3 that's not their reality. Kelly Kloepping, public information officer for the Verona Area School District, said educators in her district all say their district's 20-minute lunch period is short, mostly because kids have to stand in line and that cuts into actual "eating time."
"20 minutes is enough for lunch if they can grab food and immediately sit," Kloepping said, "But that's not always the case. Most say it's tougher for the kindergartners: it's hard to move them that fast."
Parents and administrators are concerned that a lack of time to eat is unhealthy, especially given that about one-third of American kids are overweight or obese, according to the AAP.
The Verona school district is making changes of its own.
One of Verona's elementary schools created four lunch lines to help speed up wait times. Another runs a workshop at the beginning of the school year to teach kids how to effectively eat at the "elementary restaurant," a term the school's principal coined to refer to the cafeteria. During the workshop, students learn how to stand in line at the right spot, quickly grab items, and find a seat. A third elementary school moved lunch period to after recess, since kids are hungrier than and will eat more immediately and faster since they're hungry from moving.
Kloepping said high school lunch times are longer, and she is not concerned about them.
Still, elementary times remain a concern nationwide. In a wide-ranging poll by NPR, the Robert Wood Johnson Foundation and the Harvard School of Public Health, 20 percent of parents of students from kindergarten through fifth-grade surveyed said their child only gets 15 minutes or less to eat.
They said the reason is that administrators are under intense pressure to increase instruction time and boost standardized test scores. The lunch period is often the first place they look to steal time. However, the AAP argues that when students don't have enough time to eat, the quality of their education becomes jeopardized because they have lower energy levels and are less able to focus.