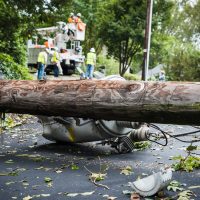 #ClickWorthy
MADISON, Wis. – Strong storms moving across the Midwest are causing thousands of people to wake up in the dark Tuesday morning, according to Alliant Energy and Madison Gas & Electric.
As of 6 a.m. Tuesday, Alliant reported outages for about 2,000 customers due to dozens of outages in Iowa and Wisconsin.
MG&E was reporting more than 400 outages across the city of Madison as of 6 a.m., with many of the outages on the city's west side.
That includes the area of Forward Drive off of Schroeder Road, where a tree fell onto power lines overnight, knocking out power for at least 50 people in the area. Crews are working on cutting down the tree before they can restore power.
Crews have been working through the night to restore service, but MG&E estimates its larger outages may not be resolved until 10 a.m. Tuesday.