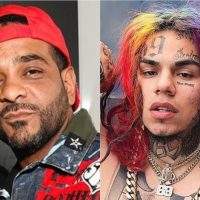 Tekashi, whose birth name is Daniel Hernandez, is on trial for racketeering, drug trafficking, and other crimes, accepts a deal for alight sentence in exchange for a lighter sentence.
At the end of the trial Tekashi was asked by prosecutors who Jim Jones was. Tekashi immediatly names fellow rapper Jim Jones as a member of the Nine Trey Gangsta Bloods gang, an admission that stunned the court and people following the trial on social media.
"He's a retired rapper," Hernandez said in a Manhattan federal courtroom.
"Is he a member of the Nine Trey Bloods gang?" prosecutors asked.
Hernandez replied, "Yes."
Tekashi also named Trippie Red as well as Cardi B, as a member of the gang. She has publicly talked about her affiliation with the gang before. Cardi responded to the allegation by posted a video on Instagram of the much-used meme where actor Keke Palmer says, "Sorry to this man."
Audio The Prosecution played in court below.