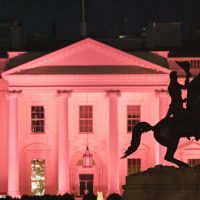 #KristaClickWorthy
The special illumination in Washington DC on Sunday night, the first day of October, came as other monuments around the world joined in turning pink to raise awareness of breast cancer.
'During October, we raise awareness and encourage people to take steps to reduce their risk of breast cancer,' First Lady Melania Trump said in a statement.
'I encourage all women to talk to their healthcare providers about mammograms and other methods of early detection and what can be done to reduce that risk,' the first lady said.
About one in eight women will be diagnosed with invasive breast cancer in their lifetime, with 250,000 new diagnoses expected in America this year.
Early detection and treatment can significantly improve survival rates.
'Too many Americans endure the pain and heartbreak of losing a family member or friend to breast cancer,' President Donald Trump said in a formal proclamation earlier this week.
'Memories of our loved ones, and their courage in the face of suffering, drive us to find a cure.'
On Sunday night, the first lady also tweeted a view of the illuminated North Portico from inside the White House.
Around the world, other countries lit up their national symbols in pink to draw attention to the first day of Breast Cancer Awareness Month.
In Paris, the Eiffel Tower blazed pinkly above the city to raise awareness.
Rome's Senatorial Palace was also illuminated, marking 25 years since the creation of Breast Cancer Awareness Month.
Elsewhere in Italy, the Milan Cathedral joined in, as survivors released pink balloons in front of the illuminated edifice.