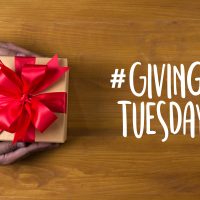 #ClickWorthy
Today is Giving Tuesday, and a new survey found 95% of us have donated our time or money to at least one charity at some point in our lives.
39% of us have donated because someone we knew asked us to.  And 19% said they've specifically donated to a social media fundraiser.  Here are a few more random stats for Giving Tuesday . . .
1.  95% of us have donated time or money to a charity at some point in our lives.
2.  88% of parents actively encourage their kids to be generous and donate.
3.  Being on the receiving end of a good deed makes you 20% more likely to DO a good deed and pay it forward.
4.  23% of us donate less than $100 to charity each year.  28% donate between $100 and $500 . . . 10% donate between $500 and $1,000 . . . and 13% give more than that.  Also, 83% of people wish they could give more than they currently do.
5.  In any given year, about 30% of annual giving happens in the month of December.  And 70% of us feel guilty if we don't donate at least something during the holidays.