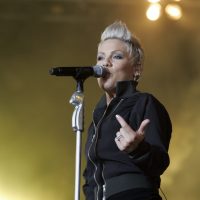 #ClickWorthy
In a year that saw new records set in gross revenue both globally and in North America based on sales from the Top 100 tours, it is
Pink
's time to shine at No. 1 after landing just short of the top spot during much of the past year and a half. Impacting that scenario was
Ed Sheeran
, who dominated the global charts in 2018 and much of 2019 with his record-setting "Divide Tour," but Pink was consistently a major player and always a factor in the chart tallies.
She was never outside the Top Eight on any touring chart compiled since the launch of her "Beautiful Trauma Tour" in the first quarter of 2018. She scored highly on the mid-year worldwide totals in both years – fifth in 2018 and No. 2 this summer, and, after the tour's first year on the road, No. 4 worldwide in 2018's year-end. Looking solely at North American touring, she was the No. 1-ranked artist twice, earning the top position in the mid-year recaps in both years, and in the final counts for 2018, she had the eighth-highest grossing tour.
Now, as 2019's highest-grossing touring artist worldwide, Pink holds No. 1 based on grosses from 68 performances during the year-end time period (Nov. 22, 2018 through Nov. 20, 2019) staged at venues in the Americas and Europe. Her overall gross from that 12-month span is $215.2 million – a result of 1,818,933 sold tickets at 59 venues.
Adding the figures tallied from her opening year on the road that featured jaunts through North America and Oceania, her "Beautiful Trauma" run racked up an overall gross of $384.4 million. In its entirety, the tour spanned 20 months and included 156 headlining dates attended by more than 3.1 million fans on four continents. Pink is one of three road warriors who topped $200 million in worldwide box office earnings this year.
Following at Nos. 2 and 3, respectively, are Elton John with $212 million in grosses generated by his ongoing "Farewell Yellow Brick Road" tour and Sheeran with $211.7 million from "Divide" that surpassed U2's "360" tour in August as the top-grosser of all time with final earnings over $775.6 million.
John's trek consisted of two North American runs in 2019 – one in the first quarter of the year and a second that hit markets in the U.S. and Canada from September through November. Sandwiched between was a European arena jaunt during the summer. The portion of Sheeran's "Divide" tour that is counted in this year's chart data is his Latin American leg that kicked off in February and South African and Asian dates prior to his return to Europe for the tour's summertime homestretch.
The Stones played all 16 of its 2019 shows in U.S. stadiums beginning in Chicago in June and wrapping at the end of August in Miami – a schedule that was revamped and postponed from an originally booked spring schedule due to Mick Jagger's health issues. The group sold 784,652 at 14 venues this year.
In total, 12 headliners topped the $100 million mark in sales globally in 2019 – one more than in either 2018 or 2017. Rounding out the top half of that group is South Korean K-pop group BTS, sixth overall in the worldwide ranking on the strength of an impressive stadium run booked in only 10 cities throughout the world. The boy band earned 68% of its overall gross for the year from two-night stints in those 10 stadiums. The largest box office haul of $16.5 million came from the Rose Bowl in Pasadena, Calif., with 113,040 tickets sold for two shows in May.
McCartney's fans numbered 745,954 at the 29 concerts that produced his $100.3 million worldwide gross this year, and the Boys' "DNA" tour included 100 shows in Europe, North America and Asia for a total gross of $100.1 million from 1,070,669 sold tickets.
Rock legend Bob Seger & The Silver Bullet Band bade farewell in 2019, ranking 14th among the Top 100 tours based on sales from a final tour that included 71 shows in the U.S. and Canada.
Seger's swan song after a multiple-decade career included six sold-out June concerts at DTE Energy Music Theatre in his hometown of Detroit. The June 21 finale of the six-show run attended by 89,529 fans marked his 33rd concert at the shed since it opened as Pine Knob Music Theatre in 1972.
NORTH AMERICA
Most of the artists figuring prominently in the worldwide tally also score among the top grossers on Pollstar's chart highlighting the Top 200 North American Tours. As mentioned earlier, all of The Rolling Stones' events in 2019 occurred in North America, so the $177.8 million gross from the "No Filter" tour lands the band at No. 1 on the chart.
All but four of the 14 dates on the tour's schedule grossed more than $10 million with MetLife Stadium in East Rutherford, N.J. producing the largest box office take of $25.5 million. The New York City-area venue logged a total of 104,964 sold tickets for shows on Aug. 1 and 5. The band's first engagement this summer were concerts on June 21 and 25 at Chicago's Soldier Field, and it was the only other venue to pass the $20 million mark in revenue. With 98,228 tickets sold, the Chicago stadium grossed $21.7 million during the run.
Elton John's ongoing farewell tour was the only other trek to top $100 million solely from North American concert venues. The veteran entertainer earned a gross of $157.4 million on the continent during the year-end time period from more than 1.1 million sold tickets.
Several markets covered during the tour have included more than one visit with non-consecutive shows or more than one venue, but that's not uncommon for a major tour spanning multiple years. Two markets, though, hosted the tour at three different venues. In the greater Los Angeles area, John appeared at LA's Staples Center, The Forum in Inglewood and also Anaheim's Honda Center during 2019 – likewise, in Northern California, he played shows at arenas in Oakland, San Jose and San Francisco. The New York metropolitan area has hosted the tour in four locations – Manhattan's Madison Square Garden, Nassau Coliseum on Long Island, Brooklyn's Barclays Center and Prudential Center in Newark, N.J.
Like The Stones, Seger's farewell tour was also staged exclusively in North American cities, so his $96.9 million gross places him in the No. 3 position on the North American chart. Aside from the multiple-night hometown stand in Detroit, his tour's largest box office take came in the Dallas market at The Ford Center at The Star in Frisco, Texas, the Dallas Cowboys' practice facility that has 12,000 permanent seats. Seger packed the place, selling 18,667 tickets on March 9 for a gross of $2.2 million.
The Jonas Brothers
' "Happiness Begins" trek made a splash in the North American rankings, taking the sixth slot based on $81.6 million in sales from 54 reported events at 48 venues. Madison Square Garden, the Hollywood Bowl in Los Angeles, Chicago's United Center, Scotiabank Arena in Toronto, Mexico City's Palacio de los Deportes and Auditorio Citibanamex in Monterrey, Mexico, all brought in the trio for double-show runs.
Garth Brooks
and
Eric Church
lead the country headliners ranked on the global Top 100 chart, and both artists are also the highest-ranked in the genre on the North American tally. Brooks scored more than $76 million in gross earnings and Church wrapped for the year with $68.5 million.
https://www.pollstar.com/article/the-year-end-top-tours-pop-tops-record-breaking-year-143014