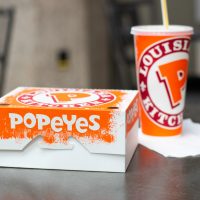 #ClickWorthy
We now know with this story, the chicken did indeed come first.
And then came the fashion.
Popeyes is getting into formation — a la Beyoncé's sold-out Ivy Park fashion line — with a clothing collection of their very own.
Like the chart-topping, international icon with her own Creole roots, the Louisiana-born fried chicken chain is selling its wears to the masses — literally — which built on social media fanfare that pointed out how Ivy Park's color schematics heavily resembles Popeyes insignia found on its branding and staff uniforms.
"Popeyes is offering fashion seekers who missed the boat the first time a chance to score something nearly identical," the company wrote in a statement Wednesday. "Enter a fast food fashion collection that features some of the brand's most iconic maroon and orange uniform designs."
The 10-item collection, which features actual Popeyes team members in the promotional shoot and accompanying marketing collateral, will be available online for a limited time only.
The online shop includes hooded jackets, crewneck sweaters, half-zips and polo shirts, visors, baseball caps, and more, ranging in pricing from $10 to $40.
We're told the uniforms were designed in-house and are literally everyday uniforms employees have worn long before the new Ivy Park collection relaunched.
The 24-time Grammy Award winning superstar is a lifelong, card-carrying fan of Popeyes.
No, for real: In 2003, the "Bootylicious" diva told Oprah Winfrey that she has a lifetime membership card during an interview.
A rep has confirmed to The Daily News that remains true.