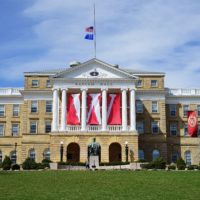 #ClickWorthy
MADISON, Wis. — The University of Wisconsin-Madison will switch to virtual learning for the next two weeks as a result of rising coronavirus cases on campus, according to a news release.
The release said all in-person undergraduate, graduate and professional school group instruction will be put on hold from Thursday to Sept. 25.
Classes taking place Thursday through Saturday will be canceled and will continue remotely starting Monday for at least the next two weeks. Clinical training will be allowed to continue, while classes that were already being offered remotely will resume as scheduled.
All in-person study spaces at university libraries, the Wisconsin Union and academic buildings will also be closed during that period. Dining services will be switched to carry-out only for housing residents and staff, and the Wisconsin Union will only provide curbside food pickup.
The release said contact tracing has not revealed any evidence of transmission from in-person classes, but the change "comes out of an abundance of caution for our students and employees." For the past two days, UW-Madison said the positive percentage of new COVID-19 tests among students and faculty has been 20% or higher.
UW-Madison said the Sellery and Witte residence halls will also be quarantined starting at 10 p.m. Wednesday. The decision comes after several positive test results were confirmed in each dorm.
Students have been asked not to move out of the dorms or leave Madison, as the university has "significant additional quarantine space available if necessary."
Those who live in the two residence halls and have not been tested will be required to do so Thursday and Friday. University Health Services will be offering on-site testing.
"I personally already had COVID," Witte resident Kayla Hovila said. "Thinking about having to do another two weeks, it's just not what really what I want to do right now, but I have to deal with it."
Prior to confirmation from university officials, dorm residents heard rumors of the two-week quarantine.
"There's a whole mass exodus going on of people leaving to go to the grocery store to pick up stuff, because no one really knows what's happening," freshman Justin Galler said.
"It's sort of surreal right now. It's kind of like the panic stage that happened back in March where everyone's stocking up. For us it's a little bit different because we're here at the dorm and we don't exactly have facilities to go out and get stuff," said Witte resident Tej Rao. "We can't even go outside. We're stuck in that building right behind us for two weeks as far as we know."
University of Wisconsin System Interim President Tommy Thompson showed support for the changes in a statement released Wednesday night.
"We will continue to remain in close contact with officials at UW-Madison along with local, state and national health experts," Thompson said. "Students, faculty and staff must be vigilant to combat this virus. These tactics have proven effective at other universities. Our hospitals have not experienced significant surge or strain. Our substantial testing has generated positive tests. This is not a surprise. Chancellor Blank and the Smart Restart team continue to take immediate steps, informed by data, to contain the spread."
At this time, Thompson said the other 12 universities in the UW System will continue to "operate as expected."
UW-Madison students have reacted to the news by running to dining halls and grocery stores to stock up on supplies.