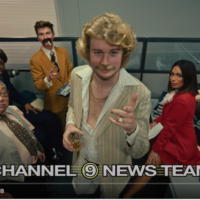 Wednesday Night October 14th YUNG GRAVY Takes over 93.1 JAMZ on Nights with DJ Fusion.  Catch  Vibe at 7:30 pm!.   Gravy's new album is out and it's called Gasanova.  It's a great listen top to bottom!
Yung Gravy is from Minnesota and Graduate of UW Madison in marketing!  He made a record with Lil Baby before baby blew up – as has tons of dope features on this album and his others.
Tune in Wednesday October 14th and show a little #localLove to Gravy!
Behold the legend of Bruce Buttercrisp.
Yes there's an explicit version too.
Out now on Spotify, Apple Music, and all your favorite streaming services: https://YungGravy.lnk.to/yup
Get exclusive "yup!" merch: http://smarturl.it/GetGravyMerch
Listen to Yung Gravy: http://smarturl.it/ListenToYungGravy
Follow Yung Gravy: Instagram: https://www.instagram.com/yunggravy
Facebook: https://www.facebook.com/yunggravy/
Twitter: https://twitter.com/yunggravy