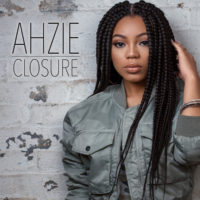 Up & Coming Teen sensation Ahzie  connects with DJ Fusion about her new single "Closure".  
In Ahzie's words: 
"Every human, from their very first crush, until they meet their soulmate has at least one heartbreak. This song is for all of us that need and demand "CLOSURE." It's so hard to move forward without it. This song is exactly what I needed to move on and I believe everyone can relate."
There is so much mystery behind the eyes of this young woman. Ahzie has an eclectic vibe which she uses as a tool to create a muse. This allows her to focus and sing life through song. Inspired by the likes of Whitney Houston, Alicia Keys, Beyonce, and Keyshia Cole. She feels these greats who have transversed this musical world before her, have done so in their own way and on their own terms. And that's exactly what she's here to do now…electrify the masses …in her time and in her way.
Official EP Coming November 13th 2020 – What Lies Ahead
Stream Closure 
Watch The Video 
Follow Ahzie:
Instagram: https://www.instagram.com/ahzieofficial
Twitter: https://twitter.com/ahzieofficial
Follow DJ Fusion 
Instagram – https://www.instagram.com/kingfusion/
Twitter – https://twitter.com/kingfusion
Facebook – https://facebook.com/kingfusion