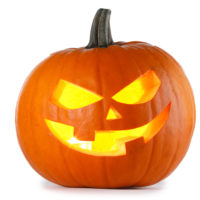 #ClickWorthy
NATIONAL PUMPKIN DAY
National Pumpkin Day recognizes a favored autumn decoration and food on October 26th. Not only do they make great fall decorations, but the pumpkin also completes a variety of tasty recipes. Join a pumpkin competition or visit any of the many fall festivals featuring the beautiful gourds.
By October 26th, we're in a frenzy of pumpkin obsession. We cannot wait for the big November holiday for pumpkin pie. No siree, we need pumpkin everything! Bars, cookies, coffee, cheesecake, pasta, and oatmeal. Pumpkin Chunkin', pumpkin patches, festivals, bake-offs, and television specials. Let's not forget jack-o-lantern carving, too! This fruit grabs American's attention.
As it should be. This squash is native to North America. The oldest evidence of pumpkin-related seeds dates back to somewhere between 7000 and 5500 BC to seeds found in Mexico.
The word pumpkin originates from the word pepon, which means "large melon" in Greek.
Within recent years, white pumpkins have become more popular in the United States. The United States produces 1.5 billion pounds of pumpkins, with Illinois producing more than any other state.
A 2,145-pound pumping from Streator, Illinois holds the current North American record. Grown by Gene McMullen in 2015, the great pumpkin weighed in a few hundred pounds lighter than the current world record pumpkin from 2014. At 2,323-pounds, the giant pumpkin from Switzerland retains the world record prize.
Pumpkins are packed with nutrients, but they're not only good for humans. Did you know that pumpkin may be recommended by veterinarians as a dietary supplement for dogs and cats? Since pumpkin is easy to digest, if your pet is experiencing certain digestive ailments, don't be surprised if your vet says to give them pumpkin puree. Poultry also benefit from eating raw pumpkin as a supplement to their regular feed during the winter months to help maintain egg production. As a seasonal food, it sure comes at the right time of year. Since it's packed with vitamin C, it can boost your immune system to fight off those nasty colds, too.
HOW TO OBSERVE #NationalPumpkinDay
Ah, pumpkins! They bring to mind wonderful memories and inspire us to artistry. Whether we frame the perfect photo at the local pumpkin patch, carve up the scariest jack-o-lantern or whip up the tastiest batch of pumpkin bars, this is a holiday worth sharing. Roast some pumpkin seeds while the family rakes up those fall leaves. Pour a mug of hot apple cider and bake up your favorite pumpkin recipes, too. Or try a new one. We offer several for you to try! As always, invite someone to Celebrate Every Day® with you, too.