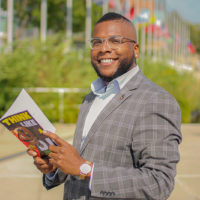 Re-empower your life by Thinking like a DJ!  
Go from a mindset of lack / worry to a mindset of abundance / fluidity – harmonious lifestyle.  Take the records in life we've been given and blend them together and rock your party!  Life is just like music – it rotates like a record on a turntable, we have to eq our lifestyle in order to make our desires and dream come to life. 
"You are the dj of your life, and you are also the music.  You must equalize yourself to the highest frequency and amplify your wavelength of success, no only for yourself, but for others, so you can rock the party and make life dance for you!"
Martinez White  ⋖Author of "Think Like A DJ"⋗
Think Like A DJ is a 7 step, guided, interactive, self improvement book offering a path to elevate your life for multiple generations.  Martinez is such an amazing individual and Im honored to help bring awareness to this project.  
Dreams Are Made To Be ACHIEVED!
7 Steps to Spin Poverty Into Prosperity
1 – Pick A Tempo
2 – Drop Your First Record
3 – Feel The Beat
4 – Ride The Wave
5 – Keep Spinning The Hits
6 – Feel The Dance Floor
7 – Rock The Party ⋖ Of Your Life⋗
Get A Free Think Like A DJ PDF Workbook and Buy A Copy of #TLADJ
Thanks For watching   
***** Use code "REPOWERMENT" for A VIP Discount ***** 
Follow Martinez White
Link Tree – https://linktr.ee/martinezwhite
Instagram – https://www.instagram.com/djmwhite/
Facebook – https://www.facebook.com/profile.php?id=8646122
Follow DJ Fusion 
Instagram – https://www.instagram.com/kingfusion/
Twitter – https://twitter.com/kingfusion
Facebook – https://facebook.com/kingfusion