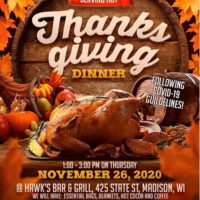 Focused on making the maximum positive effort for Madison's young black men, the members and volunteers of The Black Men Coalition will provide the resources that help affect change with a goal a to provide solutions that make a long-lasting difference.
Right now with more people in need than ever before, The Black Men Coalition is serving a FREE Hot Thanksgiving Dinner On Thursday November 26, 2020 (Thanksgiving day).
In partnership with Hawks Bar & Grill Urban triage, The beacon, and amazing volunteers, this meal will be served between 1pm and 3pm cst at Hawks Bar & Grill on State street. All covid 19 guidelines will be followed, please wear a mask, and respect social distancing.
Essential bags, Blankets, Hot cocoa and coffee all provided free of charge as well. Happy Thanksgiving and bless the Black Men Coalition of Dane County
This is an amazing team of Black men who are committed to supporting other Black men and youth, they are here to serve. The Black Men of Dane County Coalition takes convictions and turns them into action.
Think you would be a good fit? Get in touch for more information! http://blackmencoalition.org/
email – blackmencoalitionofdanecounty@gmail.com
#urbantriage #blackmencoalition #thebeacon #danecounty #kingfusion #jamz #madison #thanksgiving