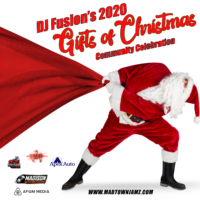 2020 Gifts Of Christmas
Sitting down with the Owner / Entrepreneur Chaos of AFGM Media / AFGM Studio's. For several years Chaos has done the Back to school Bash and Christmas community toy drives. He is one of the main sponsors of the 2020 Gift of Christmas.
The conversation touches on many aspect of the 2020 Gifts Of Christmas, who it's for (Children ages 3-10), and that there's no shame in asking for help. We're trying keep the spirit of Christmas / Santa alive for our community's children.
Two music industry experts come together – you know there's some bombs to drop & knowledge to share. If your an aspiring artist there's some really excellent information contained within. The soul of AFGM ( A Few Good Men) is a one stop shop for artists. You can record, edit, mix, master, and shoot your music videos all under one roof at an affordable rate.
2020 has been a crazy year to say the least!  Somewhere there's a Mother, Father, grandparents, or legal guardian,  wondering how it will even be possible to have Christmas gifts this year for their families children.   The reasons could be endless, covid complications, loss of employment, and even in some cases loss of a roof overhead. Don't hesitate, if you know a family in need, maybe you're in need, please reach out!
DJ Fusion has partnered up with some great local businesses to provide families with children, Free, Age appropriate, Christmas gifts, Delivered in time for the 2020 holiday season.  Let's turn some frown's upside down, celebrate our children, bring unity in our community, and make sure as many children as possible have gifts this Christmas!
Happy Holidays From DJ Fusion & AFGM Media
@chaos_newmoney @afgmstudios @kingfusion