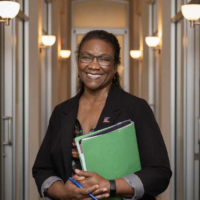 Barbara Boustead, the owner of Mary's Daughter LLC, offers day to day money management services for seniors and veterans.
Providing peace of mind for her clients and reducing their stress, Mary's Daughter is the culmination of Barbara's life mission, which has always been to be of service to others.
The importance of generational wealth and saving for the future is something Barbara instills in her own children. According to Barbara, one of the best ways to start building generational wealth is to buy a home. Most people are happy to settle for getting a paycheck and going out to buy a new car.  Barbara wants to make your money work for you in the long run; she helps make sure those instant gratification purchases are held to a minimum.
Trauma from slavery passed down generation after generation, gentrification of suburban neighborhoods, and other racial inequalities for Black Americans makes owning a home much harder for Black folks. Barbara recommends a few different local programs to help first time home buyers realize it is possible!
Mary's Daughter LLC
6709 Raymond Rd,
Madison, WI 53719
Over the month of February, DJ Fusion will connect with unique, local, Black-owned businesses, each of whom will share a piece of Black history that is personal to them or something that may not have been taught, traditionally, in schools.
Learn More at – https://www.madtownjamz.com/bhm/