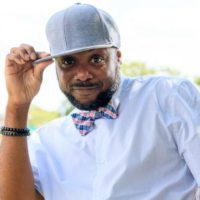 Greg Doby, also known as G!Nx, is the owner of Unidec music, a creative company in Madison, WI offering mentoring and professional services for aspiring artists & producers. 
G!Nx is the first producer from Madison, WI to have major label placements.  Notably, one of the beats he wrote was purchased by Lloyd Banks of G-Unit, bringing the midwest sound into New York Hip Hop. The same beat later became the song "Karma" ft Avant, and went Platinum on the charts, solidifying G!nx as a certified national producer and inspiring youth for generations to come.
G!Nx produced for one of  the first Hip Hop groups in Madison – The Fresh Force, whose members included Johnny Winston Jr, Richard Henderson, Erin Hynum, Oren Ben-Ami and Emanuel Whitfield.  Fresh Force was signed to DJ International in 1990 and all members of the Force have continued to be strong, iconic, Black Men in the Madison Community. 
G!Nx also pioneered the first independent record label in Madison, WI – Regime Records.  Artists include the likes of Rob DZ, The Crest, Ghetto F.A.B., Keon Andre and Club Mecca.  The foundations of Regime Records laid the way for Unidec Music to thrive. 
G!Nx partnered with another local Black business, DLK Printing, to create an AfroCentric clothing line.  Black Power Gear makes a statement and celebrates African American culture with custom retro clothing and instills positivity. 
www.unidecmg.com
http://www.fresh-force.net/
www.blackpowergear.com
Over the month of February, DJ Fusion will connect with unique, local, Black-owned businesses, each of whom will share a piece of Black history that is personal to them or something that may not have been taught, traditionally, in schools.
Learn More at – madtownjamz.com/bhm/