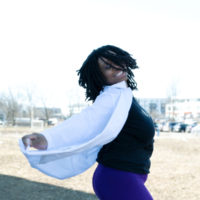 Dr. Jasmine Zapata, also known as Dr. Jaz, is an author, a community advocate, and the owner of Motivational MD Publishing.
A direct descendant of slaves, Dr. Jaz felt heavily impacted when she learned the repercussions of slaves learning to read, write, or self-educate in any way. Black slaves, if caught trying to read or learn, would be beaten, whipped, or could have fingers chopped off as punishment. The white citizens caught helping slaves with their education would face fines. Slaves were held back from education because their oppressors knew that if the enslaved were educated, they would know the severity of their situation and rebel. This oppression has led to generations of racial inequality. 
"Never stop learning! Our education is our ticket to freedom. Education will take you so many places." This is advice Dr. Jaz received from her grandfather, who lived through the civil rights era. Taking that advice to heart, she's been in school from age 5 all the way through age 32.  
Motivational MD Publishing is Dr. Jaz's own form of resistance. Dr. Jaz has helped birth a new generation of authors by recruiting like-minded writers and providing a method to share Black stories, truths, and traumas, She has helped guide these new authors through the process of publishing their own books. Motivational MD Publishing is about empowering, healing, and uplifting the next generation of youth. In 2017 Dr. Jaz authored an empowering book series for girls. Beyond Beautiful – A Girl's Guide To Unlocking the Power of Inner Beauty, Self Esteem, Resilience & Courage, which sent Dr. Jaz on a 14 day national tour spreading her strong message to our nation's young women. This February, during Black History Month, Dr. Jaz is releasing Beyond Beautiful 2 – A Girl's Guide To Studying Self-Care & Staying Focused During Difficult Times.
You're invited to the virtual book launch celebrating Beyond Beautiful 2 – A Girl's Guide to Studying Self-Care & Staying Focused During Difficult Times.  RSVP for FREE today at www.beyondbeautifultour.org for the launch party on February 13th at 3pm CST.  
Over the month of February, DJ Fusion will connect with unique, local, Black-owned businesses, each of whom will share a piece of Black history that is personal to them or something that may not have been taught, traditionally, in schools.
Learn More at – madtownjamz.com/bhm/