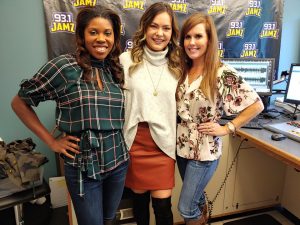 Thank you to our girl Kelsie Kristine for joining Krista & The Morning Rush and Tracy Anderson every Tuesday with our segment "Fashion on the Fly." Today's topic – Styling a Faux Leather Skirt for Fall. You can also text "Fly" 608-321-0931 to see all her fabulous looks each week!
You can find her blog post on today's topic https://kelsiekristine.com/…/08/faux-leather-skirt-for-fall/
Also congratulations Kelsie Kristine on being NOMINATED for "Best of Madison 2020" Blogger???????????? ????. Voting runs through 10/31.
Blogger Closet Sale is Sunday, 10/20 from 12 pm – 3 pm at Madison Turners Hall off Stoughton Rd. A portion of the proceeds will be donated to Fetch Wisconsin Rescue. There may even be puppies there!
You can also follow Kelsie Kristine on social media.
Instagram,Twitter: @itsmekelsie22
Blog: https://kelsiekristine.com
Facebook: https//facebook.com/itsmekelsie22
YouTube – Kelsie Kristine