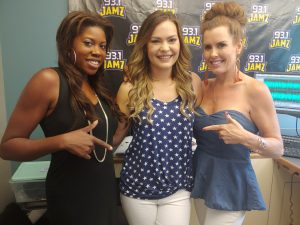 Thank you to our girl Kelsie Kristine for joining Krista & The Morning Rush and Tracy Anderson every Tuesday with our segment "Fashion on the Fly." Today's topic – 4th of July Outfit Ideas. You can also text "Fly" 608-321-0931 to see her top 4th of July Outfit ???? ideas! Style of the day!
You can find her blog post on today's topic https://kelsiekristine.com/2019/06/18/july-4th-casual-outfit-ideas/
All tops shown today are from Pink Lily Boutique. You can get 15% off your purchase with code "itsmekelsie15" at checkout!
You can also follow Kelsie Kristine on social media.
Instagram,Twitter: @itsmekelsie22
Blog: https://kelsiekristine.com/
Facebook: https//facebook.com/itsmekelsie22
YouTube – Kelsie Kristine