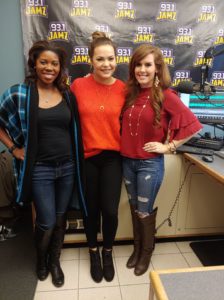 Thank you to our girl Kelsie Kristine
and her special guest Ashley from Evie & Co Boutique for joining
Krista & The Morning Rush and Tracy Anderson (via phone
) every Tuesday with our segment "Fashion on the Fly."
Today's topic: Evie & Co Boutique – New Boutique in Madison –plus how they are giving back.
Text the word "FLY" 608-321-0931 to see all her fabulous looks each week!
Check out Kelsie's Instagram stories @itsmekelsie22 to find out how you can donate. Evie & Co Boutique is doing a Be Kind campaign. A 100% of the proceeds of one of your items will go to the Black Visions Collective and the George Floyd Memorial Fund.
You can follow Ashley on social media:
Instagram: Evieandcoboutique
Website: shopevieandco.com
Follow Kelsie Kristine on social media:
Instagram, Facebook,Twitter, TikTok – itsmekelsie22
Blog: https://kelsiekristine.com
YouTube – Kelsie Kristine