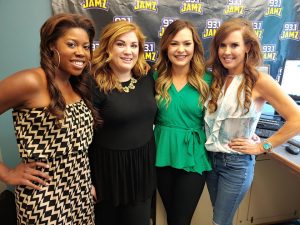 Thank you to our girl Kelsie Kristine for joining Krista & The Morning Rushand Tracy Anderson every Tuesday with our segment "Fashion on the Fly." Today's topic is all about hair extensions with Amanda from Julia Grace Salon. She's telling us all about the Kacey Welch Method. You can also text "Fly" 608-321-0931 to see before and after photos!
You can find her blog post on today's topic https://kelsiekristine.com/…/…/my-hair-extensions-review-qa/
Amanda is kind enough to offer followers a discount on her extension package. She is offering $200 off her all inclusive extension package, which includes the cost of extensions and custom cut and color on your hair to get the best blend with your hair and the extensions. Fill out the link in her bio on Instagram and use the code KELSIE200.
Follow Kelsie Kristine on social media at:
Instagram,Facebook,Twitter: @itsmekelsie22
Blog: https://kelsiekristine.com
YouTube – Kelsie Kristine
Follow Amanda at Julia Grace Salon on social media at:
Facebook: @juliagracesalon
@amanda.juliagracesalon