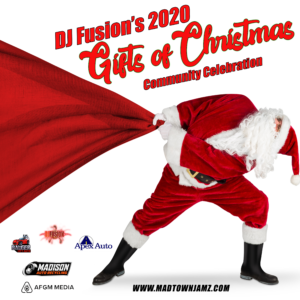 This morning our boy  DJ Fusion joined Krista & The Morning Rush to update us on all the amazing things he's been doing around town with DJ Fusion's 2020 Gifts of Christmas Community Celebration. 2020 has been a crazy year for families with Covid complications, loss of employment, and even losing a roof over their head. DJ Fusion has partnered up with some great local businesses to provide families with children, free, age appropriate, Christmas gifts, delivered just in time for the 2020 holiday season.
Each child that can be celebrated will receive a group of gifts, age appropriate absolutely FREE.
Donations are still being accepted until noon tomorrow.
It takes a village Madtown! Happy Holidays!!!!