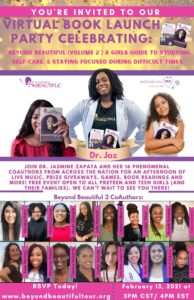 Today on Krista & The Morning Rush in honor of Black History Month
we had our fellow Madtown Mom the phenomenal Dr. Jasmine Zapata, MD.  She was joined by Brandi Rimmer and Aliyah Gillespie discussing " Beyond Beautiful Black Women in History ."
Brandi and Aliyah are co-authors on the new book. They all shared why it was important to write this book, what personally inspired them, the biggest struggles they believe black women face and more!
On Thursday's in the month of February Dr. Jasmine Zapata will join us to highlight and discuss powerful black women in history.
Thank you for joining us today ladies!